December 2nd Newsletter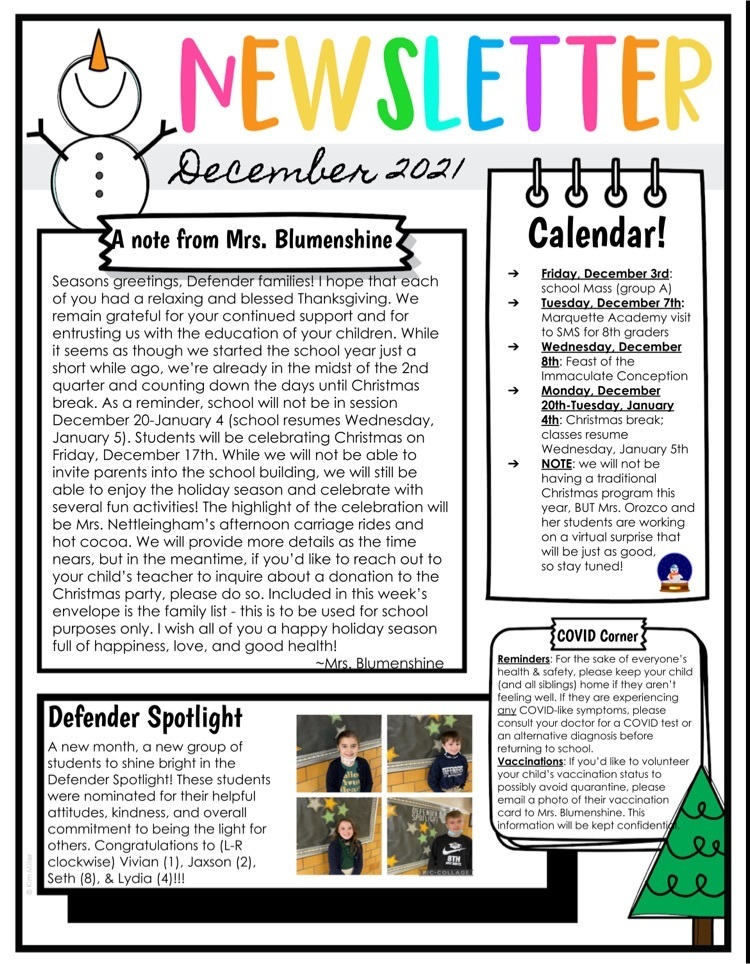 Good evening Defender families! Friendly reminder that tomorrow (Monday 11/22) is an 11:30 AM dismissal - aftercare will not be available). In-person parent/teacher conferences are tomorrow from 12:30-5:30 PM and virtual conferences are on Tuesday from 8 AM-12 PM. The link to register for parent/teacher conferences will expire tonight at 9 PM. Have a happy and blessed Thanksgiving!
It's a great day to be a Defender! For the past two weeks, students have been donating dry goods to our annual Student Council food drive. And today we were able to donate over 1,500 items to those in need in our local community. Way to go, Defenders! #bethelight #defenderpride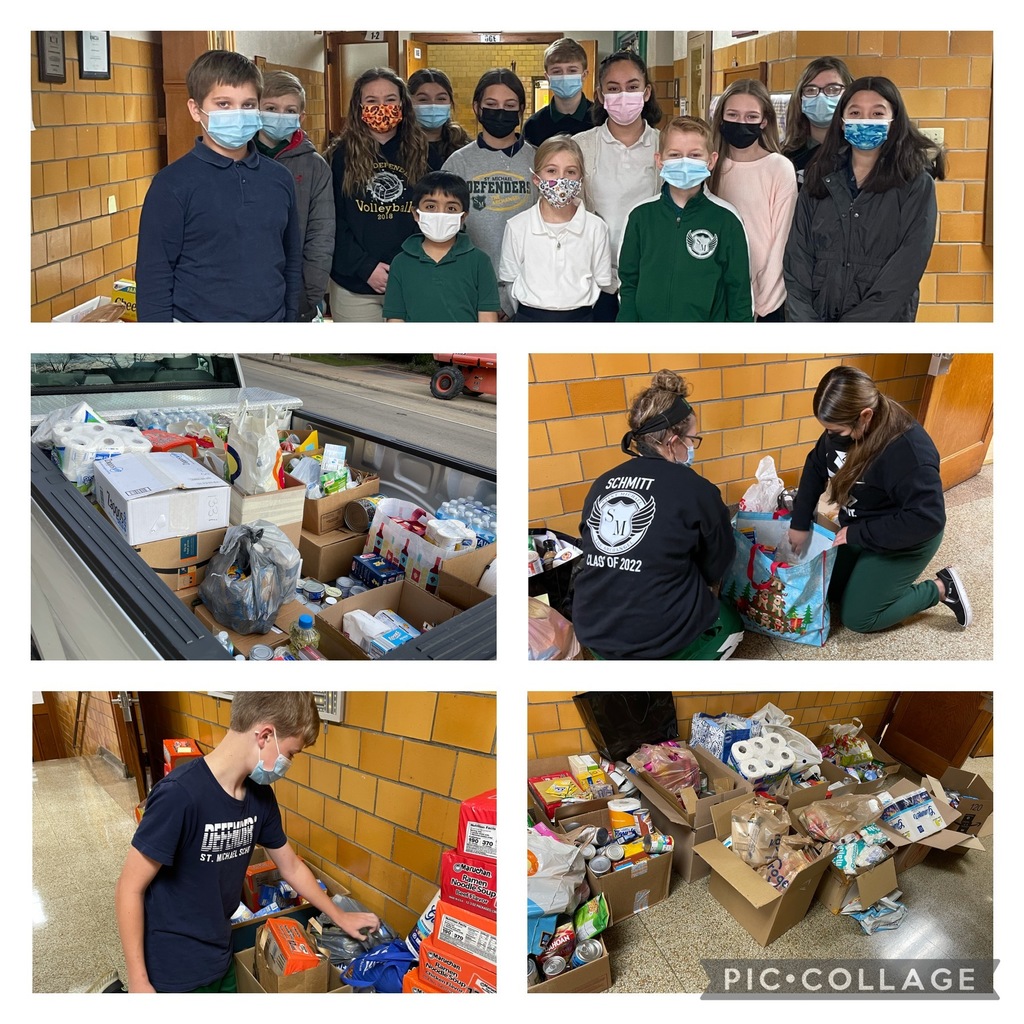 Tonight is TACO NIGHT! Drive thru and grab a delicious taco dinner while supporting St. Michael School. Please enter via Bloomington Street and exit via Park Street. Thank you!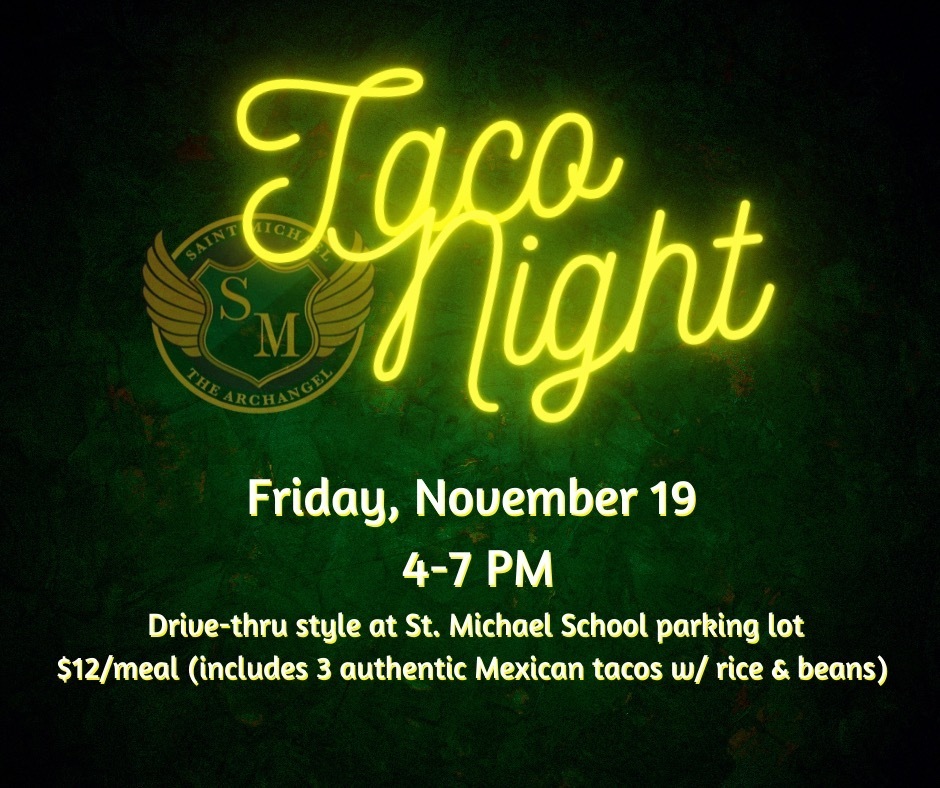 Let's TACO 'bout dinner on Friday ~ no need to cook, we've got it covered! We hope you can stop by and grab a delicious dinner between 4-7PM. Thank your for your continued support of St. Michael School!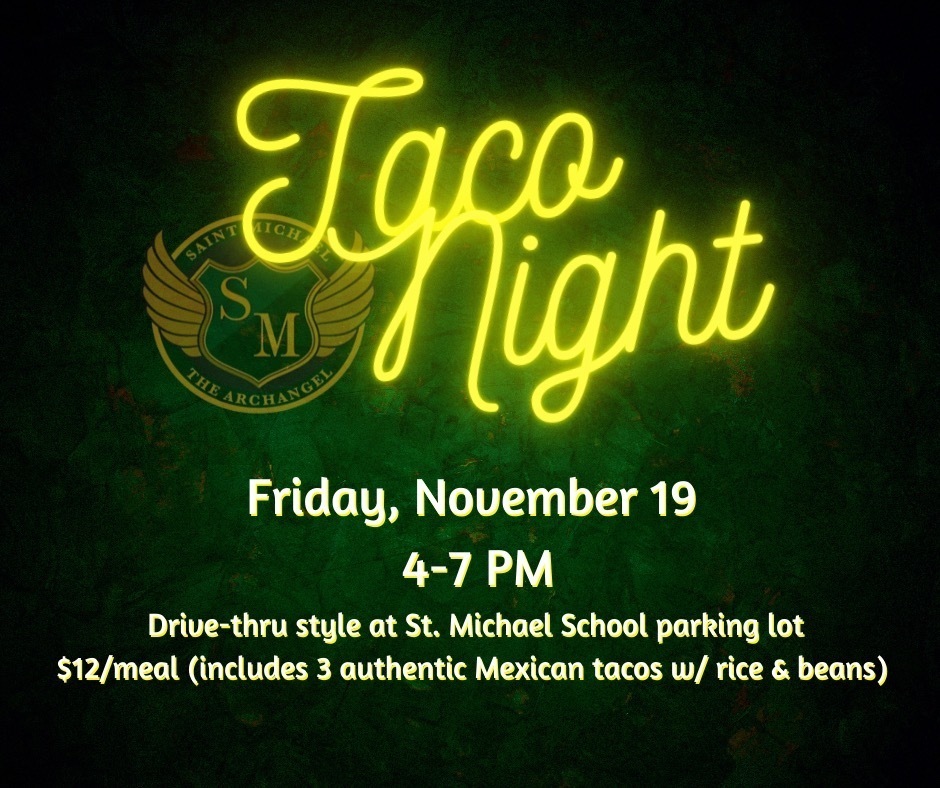 From St. Michael the Archangel School - THANK YOU, VETERANS! We're grateful for your service and sacrifice, today and always.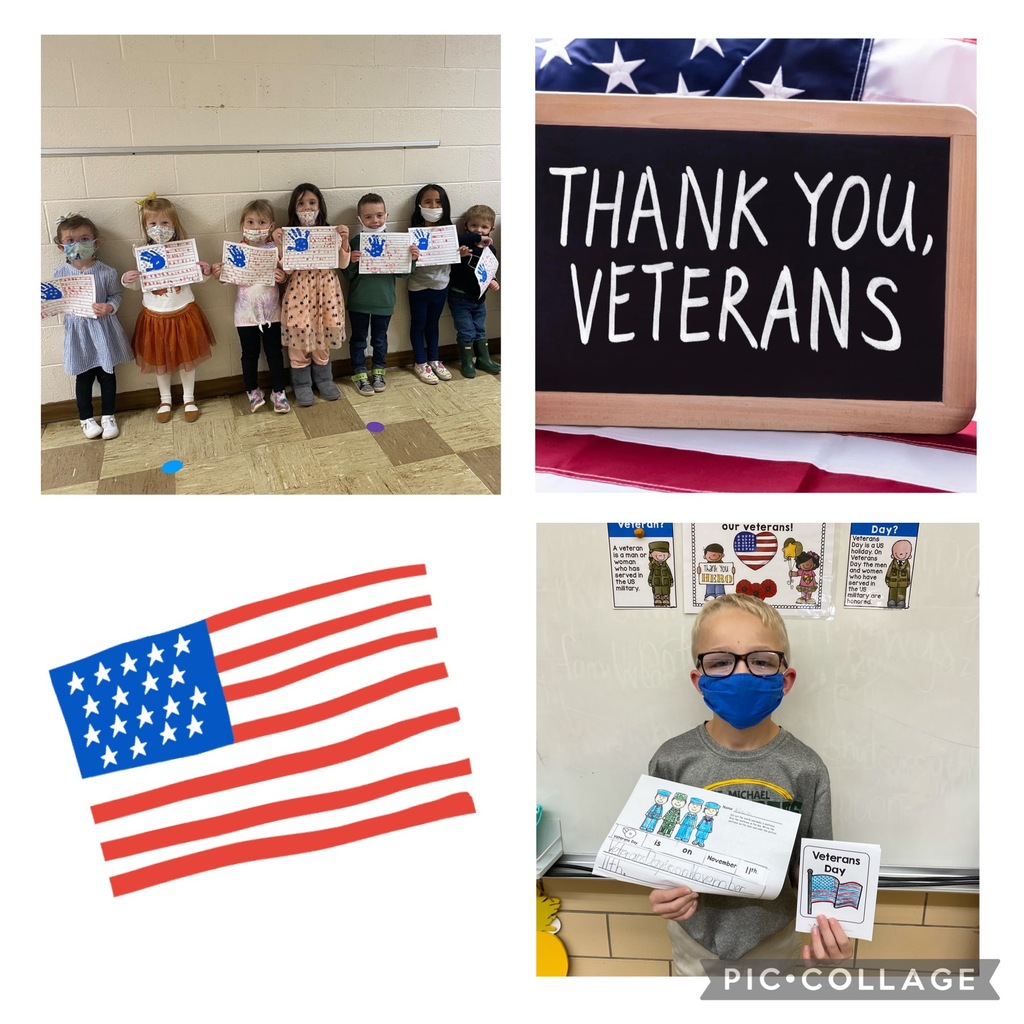 November 11th Newsletter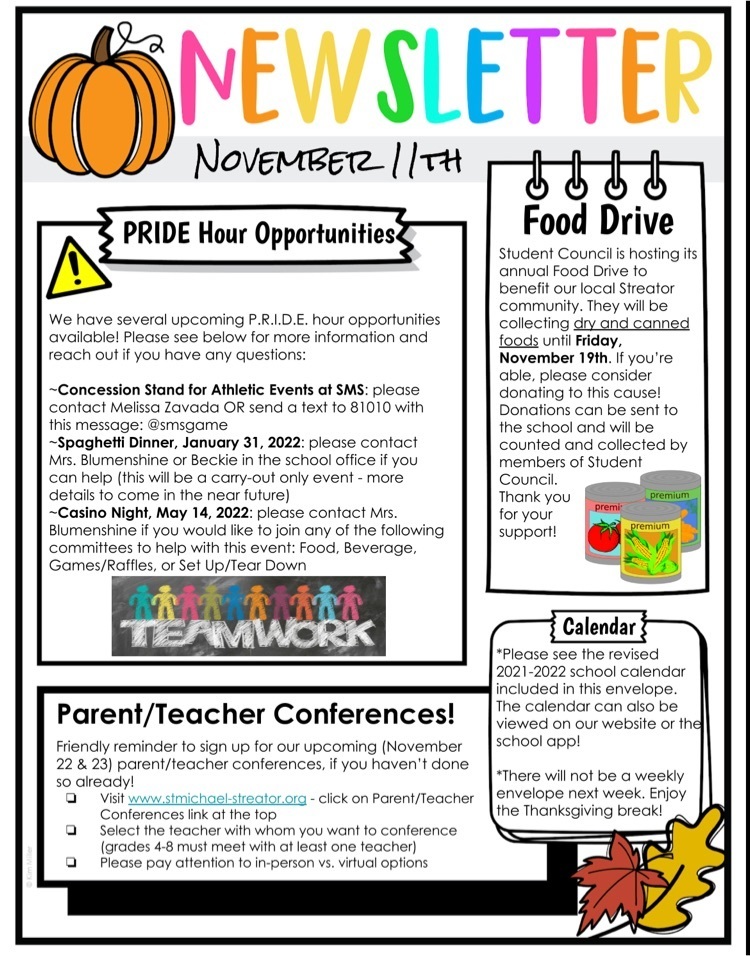 Taco Night - Round 2! Join us on Friday, November 19th for another delicious taco night...we'll be serving carry-out meals from 4-7PM. We hope to see you there!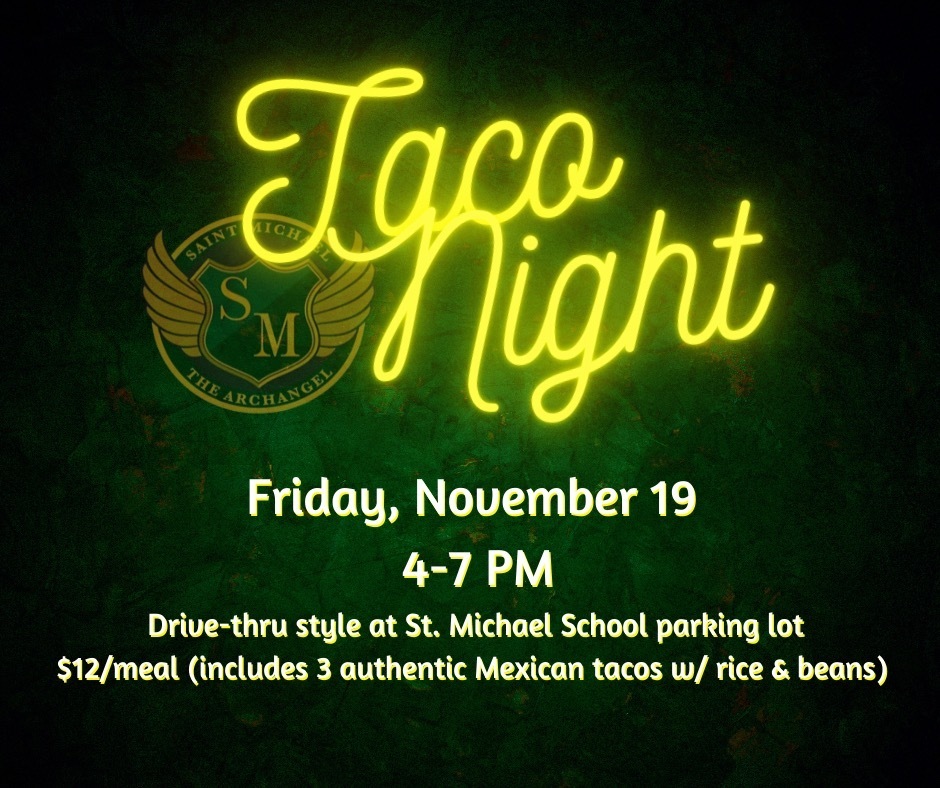 November 4th Newsletter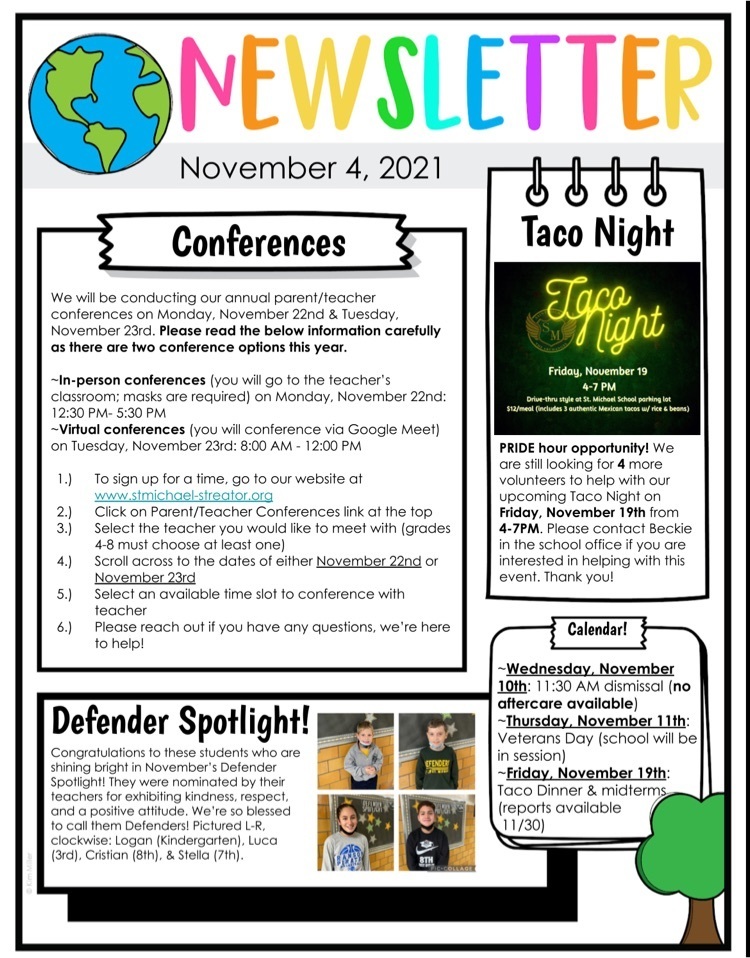 November Defender Spotlight! Congratulations to these students who were nominated for exhibiting kindness, respect, and a positive attitude! We're lucky to call you DEFENDERS! L-R clockwise: Logan (K), Luca (3), Cristian (8), & Stella (7)!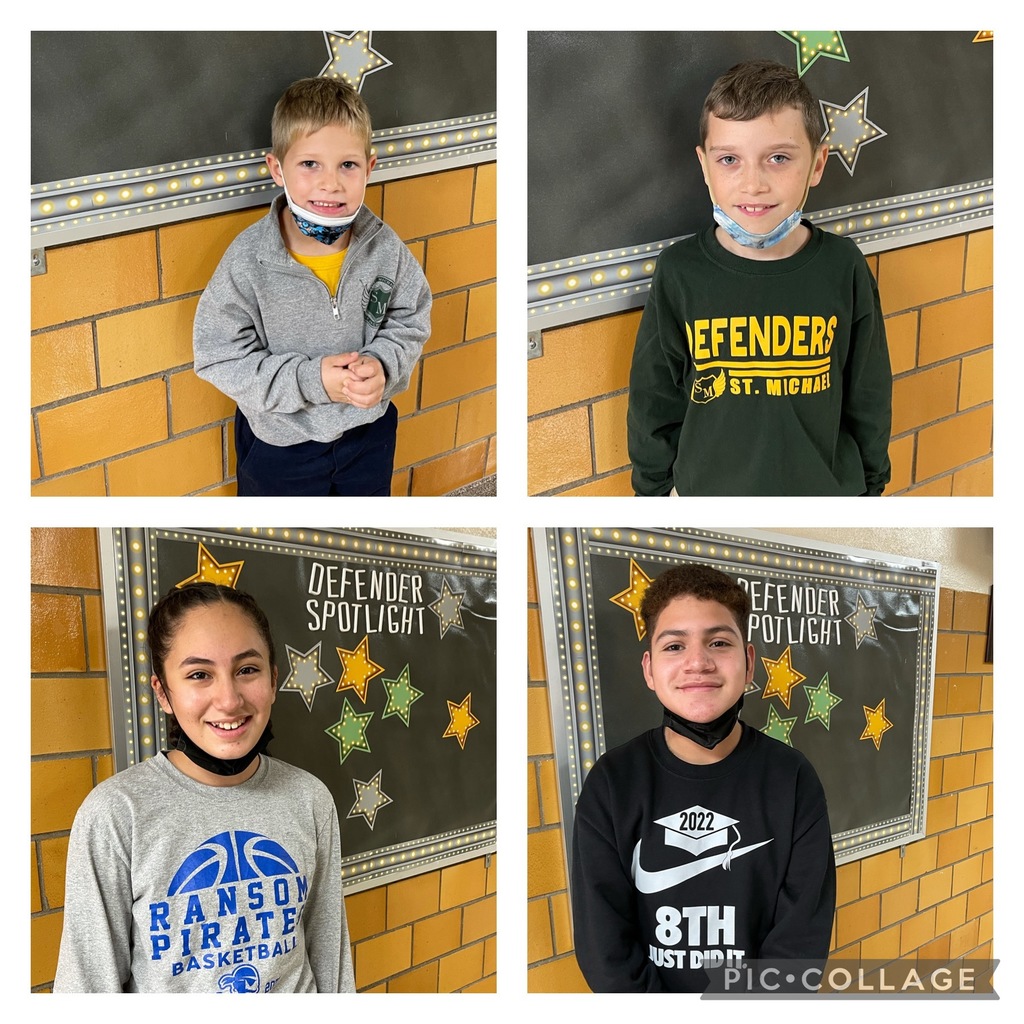 October 30th Newsletter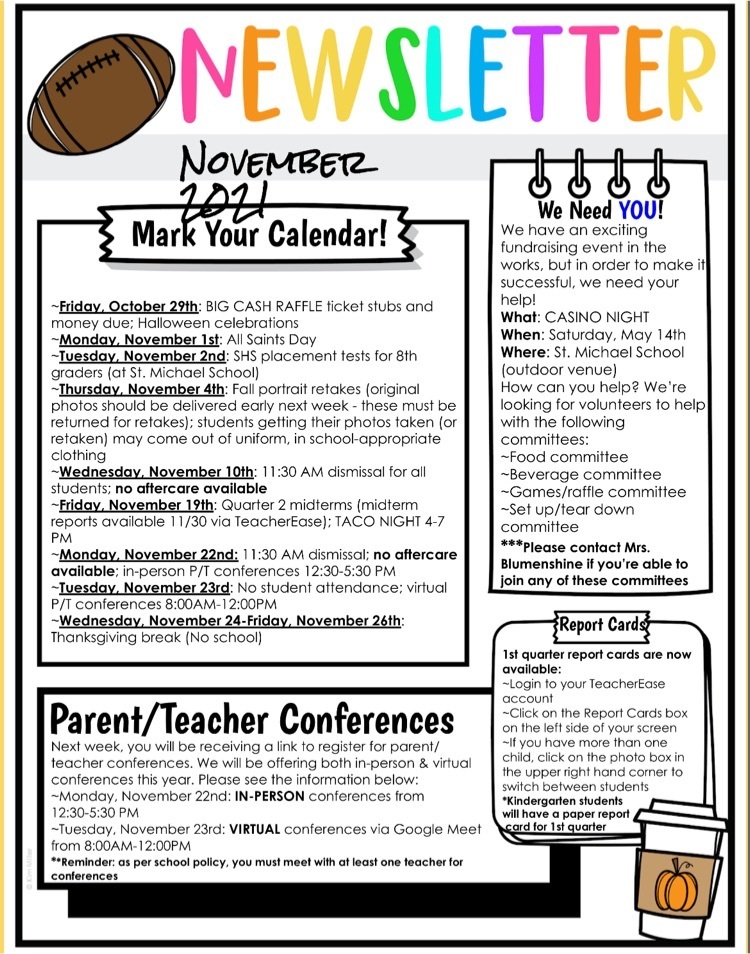 A message from St. Michael School: due to church repairs, there will be lane closures impacting parking at school beginning on Monday, November 1st. Please do not park in front of the school on Park Street or on Lundy Street near the church. Thank you for your cooperation!
KROGER COMMUNITY REWARD PROGRAM: By linking your Kroger card to St. Michael the Archangel School, we both can earn rewards! 1. Create a digital account. A digital account is needed to participate in Kroger Community Rewards. If you already have a digital account, simply link your Shopper's Card to your account so that all transactions apply toward the organization you choose.
www.kroger.com/communityrewards
2. Link your Card to an organization (St. Michael the Archangel School). Selecting the organization that you wish to support is as simple as updating the Kroger Community Rewards selection on your digital account a. Sign in to your digital account. b. Search for your organization here. c. Enter the name or NPO number of the organization you wish to support. d. Select the appropriate organization from the list and click "Save". Your selected organization will also display in the Kroger Community Rewards section of your account. If you need to review or revisit your organization, you can always do so under your Account details. 3. Your organization earns. Any transactions moving forward using the Shopper's Card number associated with your digital account will be applied to the program, at no added cost to you. Kroger donates annually to participating organizations based on your percentage of spending as it relates to the total spending associated with all participating Kroger Community Rewards organizations. We appreciate your support!

October 21 Newsletter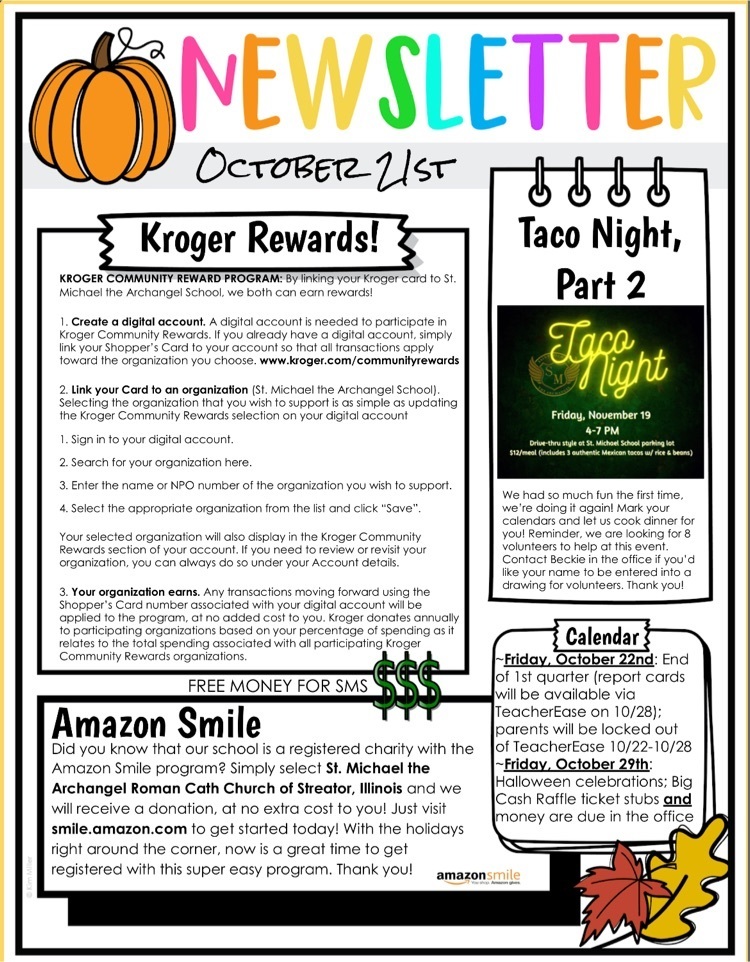 October 14th Newsletter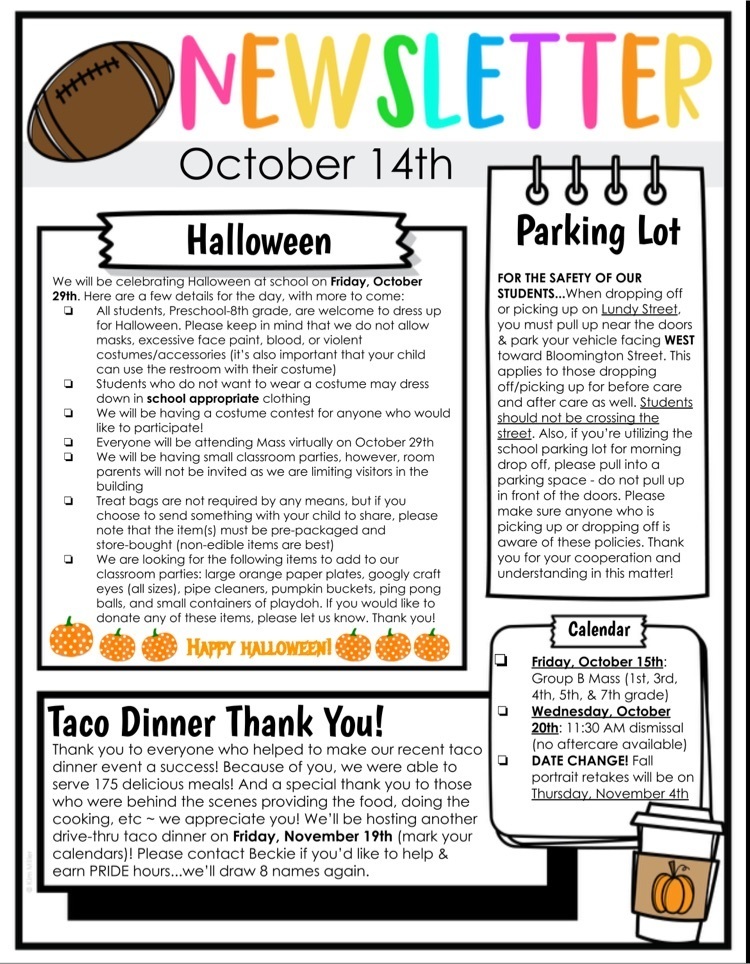 Let's TACO 'bout dinner tonight ~ this is a meal you won't want to miss! As a reminder, please enter the school parking lot via Bloomington Street & exit via Park Street. We can't wait to see you!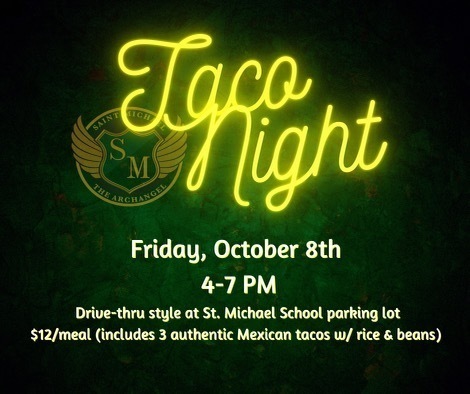 Wednesdays with Fr. Bosse got a little crafty today! Students in Preschool and 1st grade had the opportunity to make rosaries and pray with Fr. Bosse as he explained to them that October is the month of the Holy Rosary.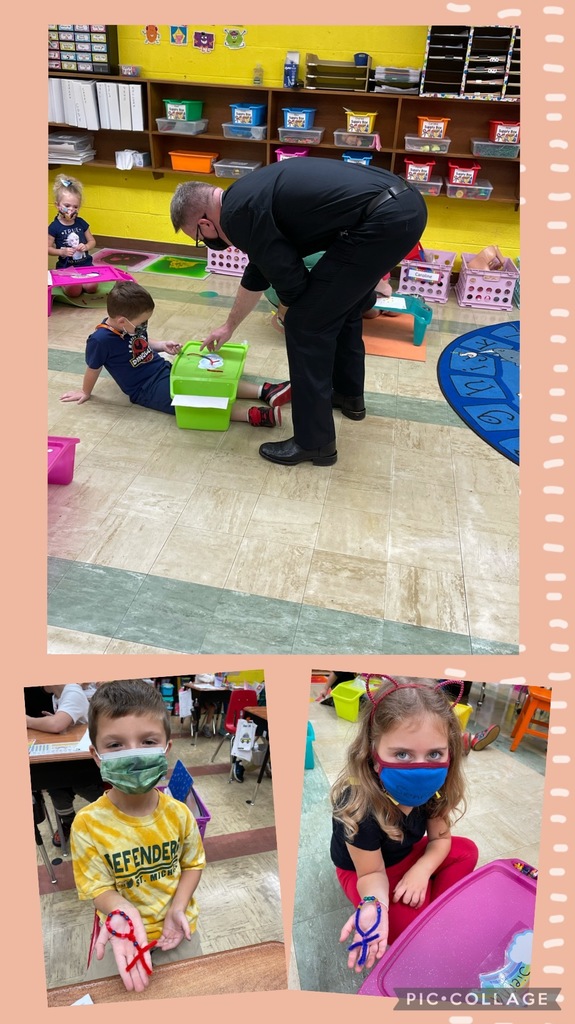 Reminder! We've got dinner covered on Friday...please enter the school parking lot via Bloomington Street and exit via Park Street. Thank you! We can't wait to see you!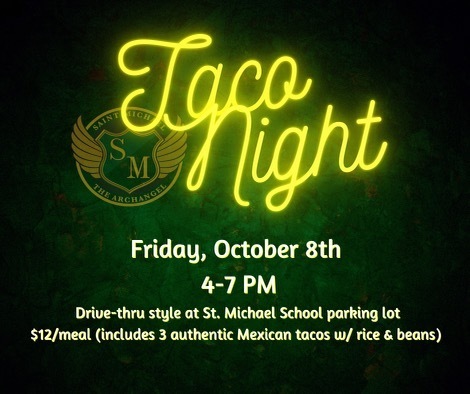 Congratulations to these students who are shining bright in October's Defender Spotlight! They were nominated by their teachers for exhibiting kindness, positive leadership, and for being the light for others. We're proud to call these students Defenders!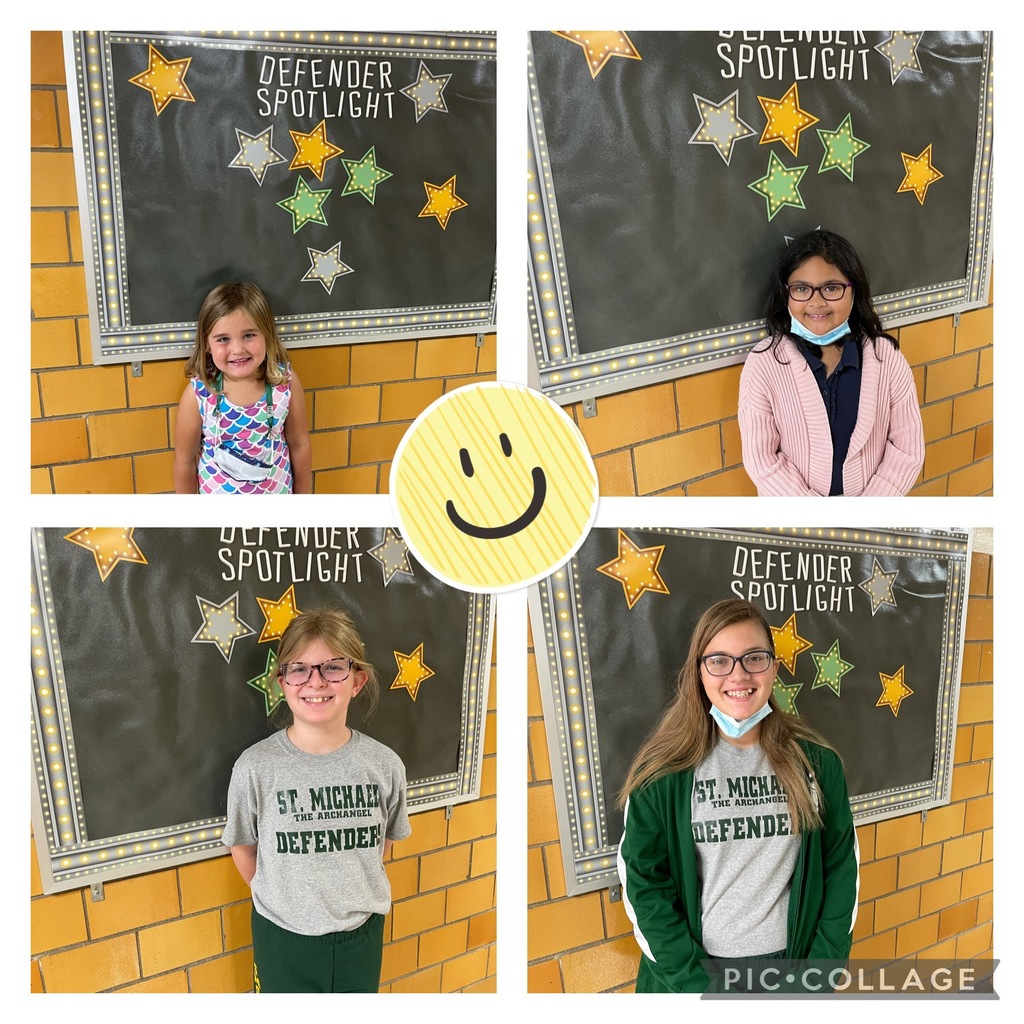 Sept. 30 Newsletter